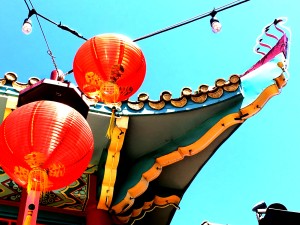 Chinatown is one of LA's oldest neighborhoods.  Spanning less than one mile, it sits between Elysian Park to the north, downtown to the south, Lincoln Heights to the east and Echo Park to the west.  Iconic symbols of classical East Asia can be seen throughout the area, such as tiled roofs, red lanterns and wishing wells.  With approximately 10,000 residents, this unique neighborhood has many restaurants, shops and art galleries.
The Old Chinatown
The first recorded Chinese person in Los Angeles was in the year 1852.  In 1857, there was continuous settlement and by 1870 there were 200 people and an identifiable "Chinatown."  These immigrants settled in and around El Pueblo de Los Angeles, on Calle de Los Negros.  This street was a short alley 50 feet wide and one block long between El Pueblo Plaza and Old Arcadia Street.  This is LA's birthplace.  Despite heavy discrimination, these early settlers who were mostly men held dominant economic positions in the laundry and produce industries for many years.  As a result, Chinatown flourished and expanded eastward from the Plaza across Alameda Street.  In its heyday, 1890 to 1910, Old Chinatown's area consisted of 15 streets and alleys and approximately 200 building units.  There was a Chinese opera theater, three temples and a newspaper.  It also had its own telephone exchange.  With the arrival of women, albeit slowly, families with children increased.  It was during this time that most of today's leading Chinese families and district associations were founded.  The population grew to about 3,000.
In the early 1910s Chinatown began to decline.  Old Chinatown was threatened with redevelopment.  The area was sold and resold to various developers.  After thirty years of decay, the area was approved for condemnation by the Supreme Court allowing for the construction of  the Union Station.   The Union Station led to the neighborhood's eventual destruction and the residents of the Old Chinatown were evicted. This caused the formation of the New Chinatown.  In the late 1930's, the Old Chinatown establishments relocated to Los Angeles' Little Italy area.  This is where New Chinatown resides today.
The New Chinatown
The area that New Chinatown sits today has a long history of urban settlement.  The first settlers were people from northern Mexico.  Los Angeles' first barrio was dubbed Sonoratown and dates to the 1850s.  These immigrants came from Sonora to California during the Gold Rush.  For those who chose to stay, this became their community.  As LA grew, so did the disparity between the growing city and Sonoratown.  The area became a rough one and was known for its gambling, prostitution, cockfighting and other sport.  There was a bullfighting ring between what is now North Broadway and North Hill Streets during the 1860s.  Officials turned a blind eye to these activities.  Sonoratown became a magnet for other immigrants such as the French, Italian, Croatian, German and other European settlers, who set up shop here. These settlers established schools, churches, businesses and hospitals, some of which still stand today.  For decades the area was known as Little Italy.  That name changed once again to New Chinatown.
New Chinatown in Los Angeles is a fun destination.  Its a great place to go and visit the numerous galleries, shops and eateries.
Take a walking tour of LA's Chinatown by visiting the locations on the map below: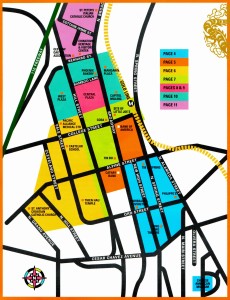 More Information: Chinatown Los Angeles