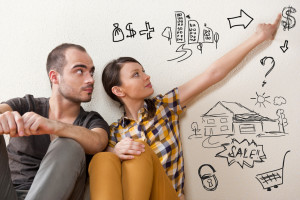 A new USC study states that the real estate market is going to experience a Millennial migration. The study, conducted by USC Dowel Myers, a professor of urban planning and demography at the USC Price School of Public Policy states that "after more than a decade of growing concentration, we see that the Millennial trend of increased downtown living has peaked out and is now beginning a decline." This shift is part of the life cycle, which other generations have gone through. "This is a dramatic human interest story with great implications for cities and real estate investments," wrote Myers.
With 83 million strong, Millennials outnumber the baby boomers. Born between 1980 and 1999 (range used by the USC study), this generation has preferred to live within inner cities.  Millennials flocked to downtown apartments.  They brought an increased vitality, economic revitalization, an improved tax base and a pronounced youthification to these inner cities.  But Millennials' decade long preference for inner city living has started to decline.  According to the USC article, this decline will become apparent by the year 2020.
But the transition from inner city apartment renting to home ownership may not be easy for Millennials.  The number one barrier for young home buyers today is credit and the down-payment.
According to Diana Olick from CNBC – "There is a rate debate going on about whether lending is too tight or whether it's just too hard for young buyers to save for that down-payment."
That said, since 2014, the Federal Housing Administration (FHA) has made more than one-third of home loans to Millennials, according to Ellie Mae's  new Millennial Tracker.  FHA loans allow for low down payments (3.5% of the purchase price), low closing costs, and easy credit qualifying.  These features can be attractive to younger buyers who may not have sufficient funds for the down payment and have a lower credit score.
Additional Reading: What do Millennials Prefer?