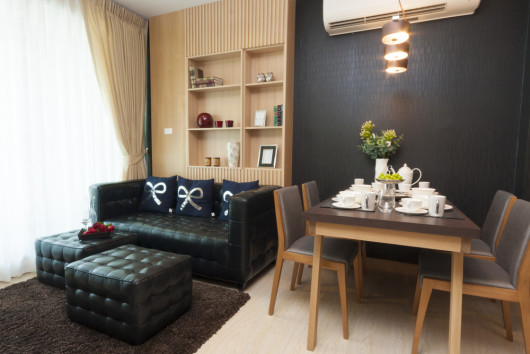 A first impression can never be redone and when agents and prospective home buyers tour your house, you want to make a positive, lasting impression. A well polished house can attract more buyers, sell faster, and for a higher price. Improving your house's aesthetic will make it stand out in agents and buyers' minds.
De-clutter Your House
The best indicator that a buyer is interested in your house is when they can picture themselves living there.
Remove all clutter from the home. This will make your home look bigger and brighter.
Put away family photographs and personal items. It is harder for the buyer to picture. themselves in the space if the homeowner's personal photos and items are on display.
Make the rooms look bigger by removing clunky or large furniture.
Remove items from the kitchen counter, closets, and attic to make these areas look bigger. Buyers will open closet and cabinet doors. You don't want to give the impression that your house does not have enough storage space.
If necessary, hire a stager to make your house home look its best. Stagers will reconfigure the area and bring in their own furniture and decorations.
Improve the Curb Appeal

The curb appeal is the first thing agents and potential buyers see so you want to maximize the exterior appeal.
Keep the lawn edged, cut, and watered regularly.
Trim hedges, weed lawns, and prune trees regularly.
Clean and align the gutters.
Inspect and clean the chimney.
Keep your garage door closed and store RVs or old/beaten up cars elsewhere while the house is on the market.
Give your front door a fresh coat of paint if necessary.
Remove engine oil and grease stains from the driveway.
Improving the Interior Appeal
Dust every part of the house, wax/mop the floor, and vacuum the carpet. A clean house will make the right impression on buyers.
Repaint any dingy, soiled, or strongly colored walls with a neutral color.
Replace cracked floors or tiles.
Fix doors, closets, and kitchen drawers that jam.
Wash windows.
Use a pressure washer to spray down sidewalks.
Re-caulk tubs, showers, and sinks.
Air out any musty smelling areas. Remove the litter box and do not have pets in the house during an open house. Odors can disinterest potential buyers.
Clean out the fireplace.
Open drapes and window blinds.
Do not have dirty dishes in the sink or food sitting out.
If you are interested in selling or buying a house in the Los Angeles area contact Aimee Carballo