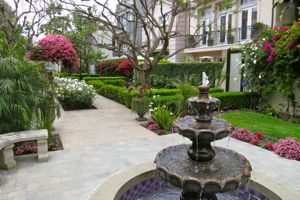 How do I choose a real estate agent?
There are many ways to go about this. Start by asking family and friends. The Internet is also a good source. Be sure to interview a few agents prior to making your decision. Selling your house is a complex transaction, so pick someone who has experience and is a good fit for you.
How will my house be marketed?
Your listing agent will develop a marketing plan just for you that will target a large pool of qualified buyers. The marketing plan may include newspaper and Internet advertising, professional flyers, open houses, a house sign and much more.
How do I price my house for sale?
Pricing your house competitively is one of the most important aspects of a successful sale. Your agent can provide you with a comparative market analysis that will help determine a fair market value for your property. This analysis will compare similar properties that have sold in the neighborhood within the last six months, and include additional factors.
What are some tips on how to prepare my house for sale?
Sell your house fast and for top dollar! From the day that your house goes on the market to the day it closes, your property should be in "selling shape." Buyers do better when they can imagine their belongings in a potential house. Rent a storage unit and remove some pieces of furniture and personal items. Clean, de-clutter and make the house shine!
What are the costs involved in selling a house?
Closing costs to sell a house can vary depending on the house and what is negotiated in the sale. Your agent can provide you with an estimate of your closing costs. Closing costs can include broker's commission, escrow fees, and local city and county transfer tax.
What are some of my responsibilities in escrow?
You received an offer, accepted it and have entered into a contract. Escrow has been opened and you are on your way to the closing! The seller will be responsible for depositing the executed deed, evidence of pest inspection, any required repair work, tax receipts, address of mortgage holder, insurance policies, equipment warranties and home warranties to name a few. Remember it is your escrow — ask questions and stay in touch with your escrow officer to make sure all is going well.
What should I expect at closing?
Closing is the legal transfer of ownership of the house from the seller to the buyer. Your escrow officer will coordinate the signing of documents and will collect and disburse all funds. To ensure a smooth closing make sure to review the Settlement Statement or HUD-1 that the buyer's lender or closing agent will give you one to two days prior to closing. These documents will contain description of the costs associated with your transaction.
More real estate selling info: